Thank you to everybody who answered our Issue 5 Survey on
Hatchings Per Nest.
Here are the results:
HATCHINGS PER NEST
DESCRIPTION:
For many years we have been told that on average you can expect three (3) chicks per sitting. Is this the case Today?
SURVEY RESULTS ARE UNDER PICTURE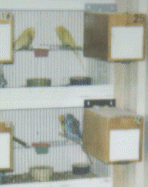 Above: Budgerigars in breeding
THE RESULTS
We had 18 replies to this survey, and out of these there where 1807 chicks breed, out of 328 pairs, this meant that:
ON AVERAGE FOR 23 PAIRS OF BUDGERIGARS THERE WILL BE APPROXIMATELY 129 BIRDS BREAD.
THIS SEEMS TO HOLD TRUE FOR THE 3 CHICKS PER SITTING SAYING AS MOST BREEDERS LET THEIR PAIRS HAVE TWO ROUNDS, THEREFORE
23 x 3 (number of chicks) x 2 (number or rounds) = 138 chicks
Here are some interesting comments we received from this survey:
[1] For a beginner I have more and more off-spring years after years.
[2] I have results for 2 breeders for 4 years (94-97). (1) 56pr 97 rung, 59pr 114 rung.39 pr 171 rung, 64pr 99 rung. (2) 41 pr 32 rung, 55pr 80 rung, 47pr 148rung. I have other details of these breeding seasons if required.
[3] 10 pairs = each 2 rounds only. First round 53 chicks - all survived. second round 59 - all survived.
In the second round one pair hatched 9 chicks of nine eggs, 2 pairs hatched 8 of 10 eggs, and 1 pair hatched 7 of 10 eggs!
The smallest nest was 3 of 9 eggs (restless hen) No failures.
[4] We been breeding for 112 years,and our average chicks per box is 4 to 5. And we don't let them go more then 2 rounds.